Cart Contents
Your cart is currently empty
Subtotal: $0.00
Categories
Manufacturers
Email or Call
Call Immortal ATV Toll Free at:

Immortal Specials
Sponsored Events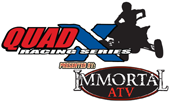 Immortal TV

Immortal Infantry-Team Riders
Being ATV riders, professional racers and just plain ATV enthusiasts, Immortal ATV knows the importance of supporting the ATV community. Immortal ATV selects a number of ATV racers from all around the world each year to represent our company. Resumes are accepted year round, so go ahead, send one today to:
IMMORTAL ATV
PO BOX 578962
MODESTO, CA 95355
Or if you don't want to wait for snail mail(who does!), then send us a request here to get the ball rolling ASAP:
Contact Us
If you're accepted, you will start off as a private in the Immortal Infantry and you will receive some of the following:
*IMMORTAL ATV T-Shirt.
*IMMORTAL ATV dog tags.
*IMMORTAL ATV 18" X 30" team rider decal for your trailer.
*IMMORTAL ATV stickers.

Plus special discounts on your items and maybe some other surprise stuff too!

Keep us posted with your race results and we will see if you have what it takes to work your way up the Immortal ranks!
Here are some of our current Immortal ATV team riders: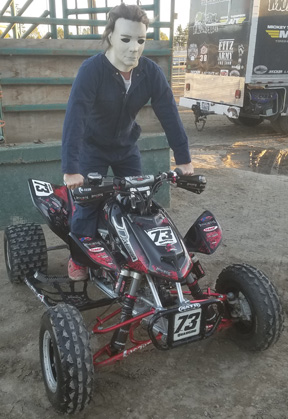 Supreme Commander, The QuadGod #73. Former Mickey Thompson, ATVAA National, Arenacross pro contender.
Currently races in any available quad classes.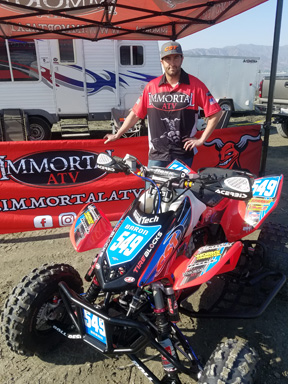 General, Beau Baron #549, California.
West coast pro ATV legend.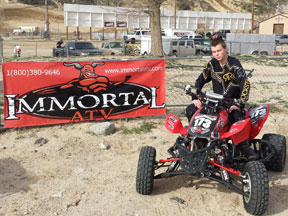 Colonel, Tyler Bunker #173, California. 2009 WORCS 91-Open National Champion.
Currently races Pro-Am class and Monster Jam Quad Wars events.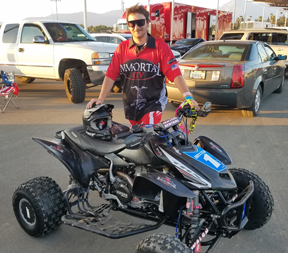 Colonel, Auston Baxter, California. 2017 Quad X and Dirt Series Pro Champion.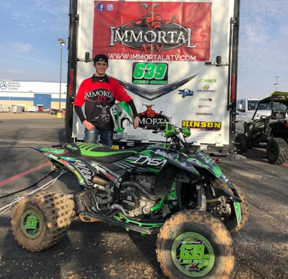 Captain, Makai Gurule #639, New Mexico. Multi time Arenacross Champion.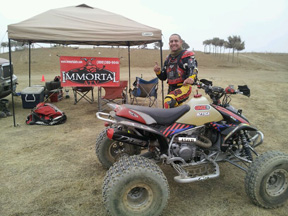 Captain, Waldemar Ortiz, Zorros Racing, New Mexico. Races sportsman class.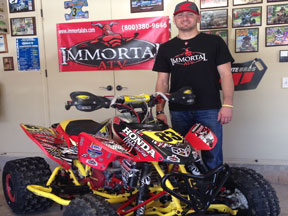 Captain, Derek Mayfield #83, Oklahoma. Races Pro class.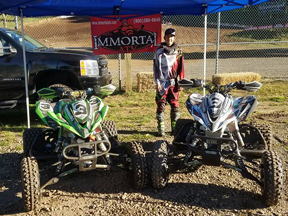 Corporal, Andy "Papa" Chavez #3, California. Races Pro class.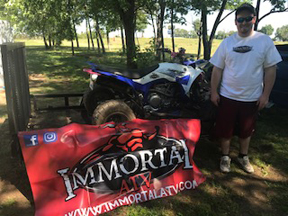 Private, Aaron Bell, Missouri. Races B class.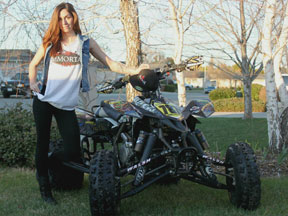 Private, Lindsay Eagles-Middlebrooks, California. Races Women's B class.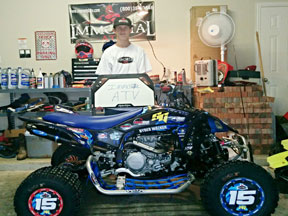 Private, Ryder Walker #15, Texas. Races B class.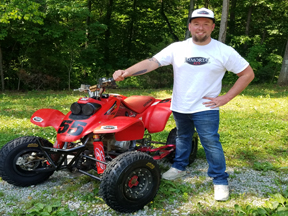 Private, Levi Hickerson #55, Kentucky. Races C class.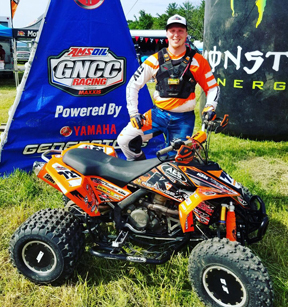 Private, Sean Newhouse #721, Ohio. Races C class.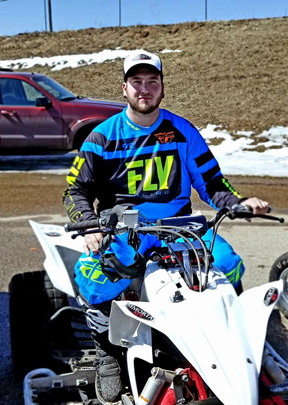 Private, Billy Franklin #1, Wisconsin. Races B class.