Cart Contents
Your cart is currently empty
Subtotal: $0.00
Categories
Manufacturers
Email or Call
Call Immortal ATV Toll Free at:

Immortal Specials
Sponsored Events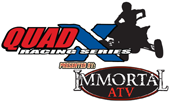 Immortal TV

Product Details
Overview
The #1 quality atv kill switch.

Used by most top atv champions.

In order for kill switch to function on banshee, key switch must be disconnected.

Normally open circuit type switch.

Click photos above to see other colors.
Reviews
Add Your Review
Reviewer: Mr Quad
08/22/2011 01:51pm

Good kill switch, like the color choices. Wish it would fit on both bar types, so I gave it a 4.
Add Your Review
Tell a Friend