Cart Contents
Your cart is currently empty
Subtotal: $0.00
Categories
Manufacturers
Email or Call
Call Immortal ATV Toll Free at:

Immortal Specials
Sponsored Events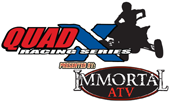 Immortal TV

Product Details
View Larger Image

(5.0 on 1)

Tusk Front Aluminum Wheel Spacer 30 mm 4/156

SKU: 1341050002
Overview
Made from lightweight 6061 T-6 aluminum for superior strength and performance.

Each front wheel spacer is 30mm (1 1/8") thick, while each rear is 45mm (1 3/4") thick.

Simple installation. Does not require removing stock studs.

Sold in pairs.
Reviews
Add Your Review
Reviewer: Mr Quad
08/22/2011 02:10pm

Definitely helps the handling on our narrow Raptor big time. Did not want to spend the money for a front end since my son was growing out of his Raptor, so these were a great compromise.
Add Your Review
Tell a Friend