Cart Contents
Your cart is currently empty
Subtotal: $0.00
Categories
Manufacturers
Email or Call
Call Immortal ATV Toll Free at:

Immortal Specials
Sponsored Events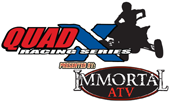 Immortal TV

Product Details
Overview
The Flexx Handlebar absorbs shock and vibration that is transferred to your body, allowing you to ride longer, at a faster pace with more control. Simply put, you will have better racing results, more fun riding or better time exploring with Flexx Handlebars controlling your day.

Requires 1 1/8" bar clamps.

Dramatically reduces vibration due to the aluminum (material of the handlebar) to rubber (elastomer) interference.

The absorbing action of the Flexx Handlebar results in less abuse transferred to the rider, depleting arm pump and fatigue.

By articulating only in the same plane as the suspension the Flexx System absorbs square edge bumps, rocks, whoops, g-outs and hard landings without sacrificing control.

Tunable elastomers (available in four densities) absorb abuse typically transferred to your upper body.

Numerous accessories available from hand guard mounts, rebound elastomer kits and more.

Warranty & Service program employed with every set.

Will NOT work with the Precision Shock and Vibe clamps!
Reviews
Add Your Review
Currently there are no reviews for this product. Share your opinion with others, be the first to write a review.
Add Your Review
Tell a Friend