Cart Contents
Your cart is currently empty
Subtotal: $0.00
Categories
Manufacturers
Email or Call
Call Immortal ATV Toll Free at:

Immortal Specials
Sponsored Events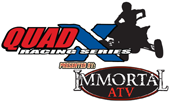 Immortal TV

Product Details
View Larger Image

(5.0 on 2)

Houser Racing Pro Bounce Nerf Bars with Suspension Footpeg Yamaha YFZ 450R and 450X

SKU: 2222111114
Overview
Bolt on aluminum nerf bar with heel guard.

Patent pending suspension foot peg included.
Pegs sits 3/4" lower than OEM.

Nets included.

Rubber ball with progressive shock absorbing abilities.

Foot peg is convex in shape with large mud clean outs and has rubber isolation mounts to reduce frame vibration.

Tree hugger design allows you to pivot around trees.

Aluminum tubes bolt to steel mounts - prevents aluminum weld Cracks caused by frame flexing.

Radius net loops held on by high strength rivets - reduces net fray.

Available in MX width(50.3") or XC width(47.7")

Comes standard in mirror black.
Reviews
Add Your Review
Reviewer: Jason V.
01/23/2018 08:32am

Just well made and look great. They are a life saver for anyone with any sort of knee or ankle issues.
Reviewer: Quad Racer
02/06/2014 11:32am

Great quality and I love the smaller heel guard. The suspension peg does make a difference but it does make the peg sit a little higher.
Add Your Review
Tell a Friend