Cart Contents
Your cart is currently empty
Subtotal: $0.00
Categories
Manufacturers
Email or Call
Call Immortal ATV Toll Free at:

Immortal Specials
Sponsored Events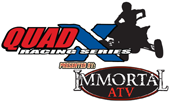 Immortal TV

Product Details
View Larger Image

(0.0 on 0)

Precision Racing Shock & Vibe Handlebar 1 1/8" Clamps KTM 450 SX and 450 XC

SKU: 1326460005
Overview
The Shock & Vibe acts as suspension for your handlebars.

Gives the feel, from the rider's perspective, that the bars are not moving, but are staying parallel to the course.

Works on OEM steering stems.

Tests indicate a reduction of vibration to the handlebars of over 300% compared to an Anti-Vibe stem alone.

Adjusting the spring preload is as easy as adding or removing shims from the preload cap.

Cross bars, if used, must be removable.

Not for use with Fasst Flexxbars or Softbars.
Reviews
Add Your Review
Currently there are no reviews for this product. Share your opinion with others, be the first to write a review.
Add Your Review
Tell a Friend