Cart Contents
Your cart is currently empty
Subtotal: $0.00
Categories
Manufacturers
Email or Call
Call Immortal ATV Toll Free at:

Immortal Specials
Sponsored Events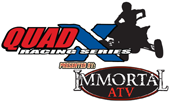 Immortal TV

Product Details
Overview
Show the world you mean business.

100% cotton heavyweight Guildan Ultra Cotton T-Shirt.

Immortal ATV logo screen printed on front and back.
Reviews
Add Your Review
Reviewer: Emmanuel Rivera
05/10/2020 10:52am

Good quality T shirt. Thick material not thin. AND THE LOGO LOOKS AMAZING.
Reviewer: Mike J.
02/06/2014 11:33am

A red demon on an ATV shirt...nice.
Reviewer: Mr. Quad
09/07/2013 12:17pm

I love this shirt. It's a little oversized and the Immortal logo is the best ATV logo out there.
Add Your Review
Tell a Friend