Cart Contents
Your cart is currently empty
Subtotal: $0.00
Categories
Manufacturers
Email or Call
Call Immortal ATV Toll Free at:

Immortal Specials
Sponsored Events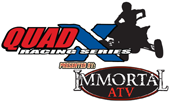 Immortal TV

Product Details
Overview
When out riding you want to make sure that you are seen by other riders. Mounting a flag to your machine gives other riders knowledge that you are on the dune hill, on the track or trail. Flags come in all different styles and designs. So get out and ride and have some fun, but make sure that you have the right safety tools like your flag.
Quickly and securely attaches a flag pole to your ATV or motorcycle.
Unique design makes flag pole installation and removal easy by a simple twist of your wrist.
Flag holder is made with 6061 aluminum and features a laser etched logo.
Reviews
Add Your Review
Currently there are no reviews for this product. Share your opinion with others, be the first to write a review.
Add Your Review
Tell a Friend