Cart Contents
Your cart is currently empty
Subtotal: $0.00
Categories
Manufacturers
Email or Call
Call Immortal ATV Toll Free at:

Immortal Specials
Sponsored Events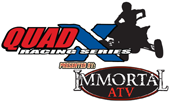 Immortal TV

Product Details
Overview
This one size fits all cover is constructed of water repellent polyurethane-coated nylon .
Includes a heavy duty elastic cord around the bottom for a secure fit.
Nylon storage case included.
Reviews
Add Your Review
Reviewer: Mike M.
08/31/2016 08:25am

Nice cover, I got 2 of these for my TRXs.work great and hold on tight at the bottom.
Add Your Review
Tell a Friend