Cart Contents
Your cart is currently empty
Subtotal: $0.00
Categories
Manufacturers
Email or Call
Call Immortal ATV Toll Free at:

Immortal Specials
Sponsored Events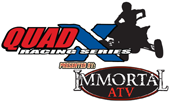 Immortal TV

Product Details
Overview
Show the world you mean business and get some Immortal ATV stickers.
High quality screened and UV coated stickers, perfect for outdoor use.
Get some, don't be scared....be Immortal
Largest sticker is approximately 5" in length.
Reviews
Add Your Review
Reviewer: Emmanuel Rivera
05/10/2020 10:54am

YOU GET LOTS OF STICKERS.
Add Your Review
Tell a Friend