Cart Contents
Your cart is currently empty
Subtotal: $0.00
Categories
Manufacturers
Email or Call
Call Immortal ATV Toll Free at:

Immortal Specials
Sponsored Events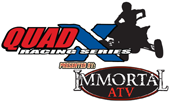 Immortal TV

Product Details
Overview
Highest quality, 3M based product used by many top ATV racing professionals and Immortal ATV.
Here's how to order:
Due to the many customizble options, go to SSI here:
http://www.ssidecals.com/products/semi-custom-atv-graphic-kit/
And decide if you want a semi custom or custom graphics kit. Then add as much info as you can into our ordering page.
Take screenshots of your SSI page options and email them to Sales@immortalatv.com after you place your order with us, don't worry, you will get an editable proof before your graphics are printed.
Add Immortal ATV as your main sponsor and save $20!
Ask about special Immortal ATV inspired graphic kits.
Reviews
Add Your Review
Reviewer: Quad Racer
02/09/2017 07:47am

SSI makes the best kits, period! Really thick, detailed kits and used by top racers!
Add Your Review
Tell a Friend